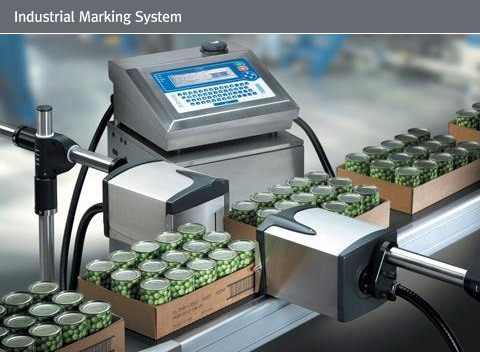 Industrial Marking System
Products or Parts , etc. Expiration Date, Manufacture Date, Bar-code, Product Information, Company Logo, Various phrases, Recording to variable information.
Feature
Because Each Device Different Production Speed, Worker will Determine Exactly Satisfy the Conditions, and you Should Choose the High Satisfaction Equipment. When Selecting Marking Equipment, Prices, Work Environment, Marking Quality, and Should be Considered Worker. Since The Marking is the Image of Your Company, Marking Machine Suitable for Workers with Less Cost.
Application Case
End-pump Diode Laser Marking Machine
aser marking is Used for Simplicity, Rapidly, Various Applicability Combined, It is Possible to Work on a Variety of Surfaces with Various Types of Materials. Laser Diode Life is about 20,000 Hours, Depending on the Circumstances, be Used to 5W-50W.
- Co2 Laser: The Most Commonly Used Method
- Fiber Lasers: Contrasting Techniques (Contrast), and Precise Technique is Possible
- YAG: Directly Marking on Non-coding Pure Metal (Bare Metal) and Plastic, Coated Metal
Dot Pin Marking Machine
Dot Pin Marking System is How to Marking a Product Hammered the Pin. Dot Pin Marking (Percussion Machine) is Air Method and Electromagnets(Magnetic) Method. Electromagnet(Magnetic) System is Not Required Air, Depth and Thickness Can be Adjusted According to the Type of Pin. Dot Pin Marking is Moving to the Stepper Motor in the X-axis and Y-axis Made by Stamping Pin Oscillating Carbide. Set of Points Represents the Form of a Continuous Line. Can be Economically and Permanently Marked with the Speed in the Product having a Variety of Shapes and Meaterials. Any Letter or Shape, Symbol, Logo, etc. Can be Repeated Marking, Any Angle and The Character may be Imprinted in the Winding Position.
Electrolytic Marking
Electrolytic Marking System is the Electrolyte and the Current Interactions, to a Stencil Image of a Product to the Conductive Surface on the Basis of a Process for Chemically Etching. Electrolytic Metal Marking Etching Method is Excellent Quality but good Workability and Easy to Use and Inexpensive. Electrolytic Etching of Metal Marking Method is Cheap and the Quality is Excellent and Improve Workability and Easy to Use. Stainless, Steel, Cast Iron and Non-Ferrous Metals as well as Carbide, Nickel, Chrome, Titanium, Alloys such as a Zinc Plated Surface or a Marking in Black or in White Etching.
Ink jet Marking
Ink jet Marking System is a Method of Printing on an Object Moving Through the Nozzle.
Thermal Transfer Marking
The Column is Marked by Using the Thermal Transfer Ribbon Between the Print Head and the Applied Material. From the Print-Head Heat is Transmitted Through the Ribbon, Dissolve the Ink is Made to Settle the Material.